Wal-Mart's Scott says retail jobs are good jobs
NEW YORK, June 19 (Reuters) - Lee Scott, the former chief executive officer of Wal-Mart Stores Inc (WMT.N) has a regret about his time at the helm of the world's biggest retailer -- not doing enough to promote the importance of retail jobs.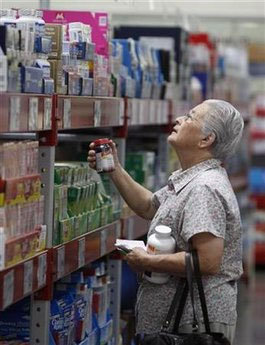 Photo: REUTERS/Jessica Rinaldi
Speaking at the World Food Business Summit in New York on Friday 19 June, Scott, who is now chairman of Wal-Mart's executive committee, said that as he was leaving the CEO post, several people asked him if there was anything he had wanted to fully accomplish before his departure.
"The answer was, of course, one place I would have liked to have done more is helping people understand that Wal-Mart jobs, retail jobs in general, are good jobs," Scott said.
"They pay well and they offer extraordinary opportunities. But the fact is, you just can't do everything."
Scott served as Wal-Mart's CEO from January of 2000 through January of this year. He worked his way up to the top job after joining the retailer in 1979 as an assistant director of logistics.
But much of his time as CEO was marked by struggles as the discount retailer found itself under attack from labor groups and politicians who accused it of mistreating employees, paying low wages and not offering adequate health care coverage.
Scott worked to counter those critics. Under his tenure Wal-Mart said it was expanding the health care plans it offered U.S. employees, and the retailer also joined a coalition of labor groups and businesses pushing for "quality, affordable" health insurance coverage for all Americans by 2012.
Before Scott retired as CEO, Wal-Mart also took steps to put an end to years of legal battles surrounding the treatment of its workers. In December, the retailer said it would pay up to $640 million to settle 63 class action lawsuits that accused it of wage violations.
Scott also used his speech at the summit to ask food and retail companies to build a more socially and environmentally responsible supply chain.
Under an environmental effort started by Scott in 2005, Wal-Mart has set the goals of one day using only renewable energy and creating zero waste, and it has pushed its suppliers to follow its lead. (Reporting by Aarthi Sivaraman, additional reporting Nicole Maestri in San Francisco; Editing by Tim Dobbyn)
© Thomson Reuters 2022 All rights reserved.