Tiffany appeals eBay Internet ruling
NEW YORK (Reuters) - U.S. jeweller Tiffany on Monday said it appealed a recent court ruling that found eBay was not responsible for policing fake Tiffany jewellery sold on its website.
Tiffany filed the appeal with the United States Court of Appeals for the Second Circuit, it said in a statement.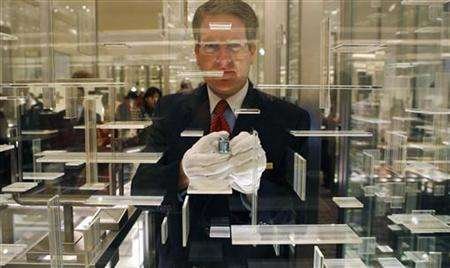 "Tiffany's decision to carry this litigation on after the District Court's decision doesn't do anything to combat counterfeiting," an eBay spokeswoman said in an e-mailed statement. "The best way to stop counterfeiting is ongoing collaboration between companies, government agencies and law enforcement."
Tiffany sued eBay in 2004, alleging it turned a blind eye to the sale of fake Tiffany jewellery on its website. But in July, all of its trademark infringement claims were rejected, and a federal judge held that brand owners are ultimately responsible for protecting their own trademarks.
The ruling in the case, of interest to both Internet companies and luxury-goods makers, was considered to be a blow to Tiffany, which was expected to appeal.
Although eBay scored a legal victory in the U.S. case, it did not enjoy similar fortunes abroad.
A French court ordered the Internet company to pay $61 million (30 million pounds) to luxury goods group LVMH, owner of the Louis Vuitton and Christian Dior brands, in compensation for allowing the sale of fake items on its website. EBay has said it will appeal that ruling.
Tiffany's shares were up 4.1 percent at $42.92, while eBay's shares rose 2.2 percent to $26.95, amid an overall gain in the wider market. The Dow Jones Retail Index was up 4.7 percent.
(Reporting by Aarthi Sivaraman, with additional reporting by Robert MacMillan in San Francisco; Editing by Maureen Bavdek)
© Thomson Reuters 2022 All rights reserved.