Saks will pass on lower prices for luxury brands
By Tim Gaynor
TUCSON, Arizona (Reuters) - Saks Inc will pass on lower prices from top brands such as Prada and Christian Dior, which the upscale chain said on Friday will help spur sales during a deepening economic recession.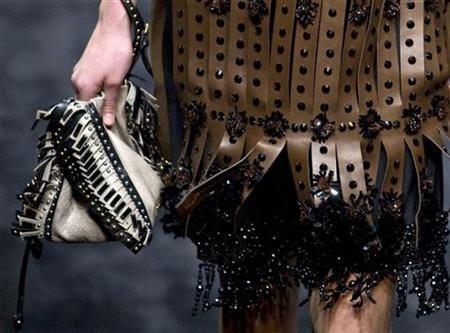 Saks, while reaffirming it will not endanger its high-end image despite market conditions, said it would be able to pass on lower prices for select luxury items as competition for dwindling customers heats up.
The 84-year-old company, which is battling rivals from Neiman Marcus Group Inc to Nordstrom Inc, had pledged it would not resort again to the broad discounting of the 2008 holiday season, during which the firm discounted luxury brands by up to 75 percent, sending shockwaves through the industry.
But price ranges had now widened, meaning cheaper prices were available, Saks CEO Steve Sadove said.
"What we are we finding is our customer is gravitating to the very best pieces, but they are also moving down a little bit because of good pricing," Sadove told a retail conference in Tucson, Arizona.
"Prada is now selling a $700 handbag, versus their lower- priced one being $1,000 ... At Christian Dior, an entry price handbag was about $1,500.
"If you look to this fall, you are going to see Christian Dior sell a $950 handbag," he added.
"What you're seeing is a gravitation and a widening of the mix that a Prada, that a Chanel" will offer. "A widening of the price point within the brand."
Retailers such as Saks -- which operates 53 Saks Fifth Avenue stores -- are struggling to offset a steep decline in sales after a particularly tough 2008 holiday season.
This year, the company reported a net loss of $98.8 million, or 72 cents a share in its fiscal fourth quarter ended January 31, compared with a profit of $39.5 million, or 26 cents per share, a year earlier.
Shoppers who usually spend liberally in high-end stores have cut back as unemployment hovers at a 25-year high and access to credit tightens. Turbulence in stock markets have not helped, analysts say.
Sadove said Saks would continue to offer the same marquee names, but he believed up to 10 percent of the overall product would shift to a cheaper price-tier -- which he called "good" or "better" -- and away from the top, or "best" tier.
"It's very important though, that people understand that you can't change who you are," he added.
"One mistake that Saks made over ... a period of years was to be schizophrenic in terms of what it stood for. It's very important that Saks stand for being a luxury brand."
(Reporting by Tim Gaynor; Editing by Andre Grenon)
© Thomson Reuters 2022 All rights reserved.