Prada mulls possible Hong Kong IPO in 2011
MILAN | Wed Oct 6, 2010 - (Reuters) - Italian fashion power house Prada is mulling a Hong Kong flotation next year, markets conditions allowing, which would help it speed expansion in China, expected to be the world's biggest luxury market in the next five years.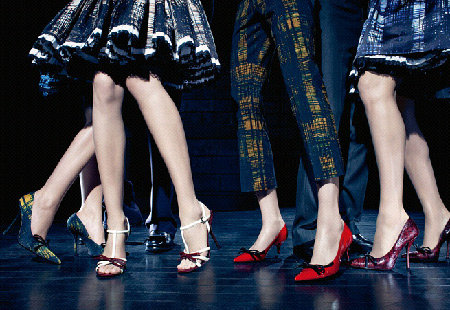 Prada Campaign
The move would also free Prada from the shackles of a debt estimated at around 1 billion euros ($1.4 billion), partly the result of an ill-fated acquisition spree in the 1990s.
"Hong Kong is among the markets we are considering, but it is not the only one," Prada's spokesman told Reuters.
Prada prepared itself several times to float in the past decade. Its most high-profile attempt in 2001 was torpedoed by the September 11 attacks as markets remained muted in the aftermath.
Some analysts believe the company could be valued at 10-15 times earnings before interest, depreciation and amortization (EBITDA), which reached 225.2 million euros in the first half. If extended to the full year, the company would then be valued at between 4.5-6.7 billion euros.
If successful, Prada's initial public offering might encourage other Italian luxury companies to float, such as fashion house
Salvatore Ferragamo
and the ski jacket maker
Moncler
.
Prada's flotation in Hong Kong would offer good exposure of its Chinese growth story to investors and cash in on recovery in the United States and Europe.
Prada's sales in Asia grew 47 percent in the first half while global revenue rose 29.3 percent to 936.5 million euros.
Prada, which has not yet hired advisors for its IPO, sees 2011 as a possible deadline, but no decision has been taken.
"2011 is a possible timeframe for listing, but it is still open. A decision will be made depending on market conditions," the company's spokesman said.
The family of the company's designer
Miuccia Prada
and Chief Executive Patrizio Bertelli controls 95 percent of Prada Spa's capital, with Italy's bank Intesa Sanpaolo (ISP.MI) owning the remaining 5 percent.
But many Italian luxury companies, often family-owned, prefer to deal with banks and steer clear of the market's rigorous disclosure requirements.
CHANGES TO COME
If Prada floated, analysts say the company would have to make changes to its executive and supervisory boards as decision-making is now concentrated in the hands of Bertelli.
Bertelli has helped Miuccia Prada build the brand into a global fashion icon over the past 30 years, with sales of more than 2 billion euros.
Prada S/S 2011 Fashion Show at Milan Fashion Week
© Thomson Reuters 2023 All rights reserved.