Gucci's men get tropical treatment for next summer
By Marie-Louise Gumuchian
MILAN (Reuters) - East will meet West next summer for Giorgio Armani male fans with Asian inspired long shirts, shantung trousers and fitted jackets, the Italian designer suggested in his menswear show, which won him loud applause.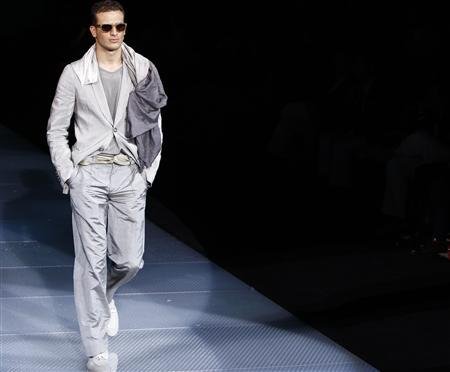 Armani, the last of the big names to present his ideas at Milan's spring/summer 2009 men's shows on Tuesday, chose to put bindies on the foreheads of some of his models, dressed in flowing bright pink shirts and dark shorts for a beachy look.
The designer, one of Milan's long established names, turned out flowing designs with perfect tailoring that were easy to wear and relaxed. Scarves sat on shoulders instead of hanging down the neck, and they also replaced belts on trousers.
He favored Prince of Wales check and chalk stripes for jackets, short and slim and worn over a double breasted waistcoat, with a loose untucked or Asian-style shirt.
Trousers were light, varying from Indian, Balinese or Malaysian styles, sometimes with printed patterns, and generous in dimensions. Some were drawstring, others were tighter below the knee. Shorts were below the knee.
"(The clothes) are relative to a type of climate, a well-being," Armani told reporters backstage, saying there is "a pinch of personal interest" in the collection as he is about to open stores in India.
The main colors of the collection included an almost-grey green, light grey, putty and violet.
Shoes came in a choice of snakeskin, crocodile and woven hopsack, or laced, again in an Asian style. Guests included actors Clive Owen and Adrien Brody as well as Thai Princess Sirivannavari Nariratana.
"I loved the colors, (they were) really amazing," Owen told Reuters after the show which ended with Armani walking on stage to male and female models sitting crossed-legged towards him.
D&G
At D&G, the less formal line of designers Stefano Gabbana and Domenico Dolce, the look was nautical, inspired by the French Riviera.
The duo stuck to white and navy blue, with small dabs of red appearing in patterned trousers, bow-ties and on linings.
Models walked out in peak lapel and shawl collar button-suits, both with contrasting stitching details -- blue on white or vice versa, with shirts that had contrasting cuffs, bow-ties and printed pochettes.
The more casual look suggested jersey vests, slim cut trousers and Bermuda shorts with nautical-themed prints while cotton knitwear was accessorized with a silk neck scarf.
Swimwear was white and navy blue, accessorized with white bags while for the evening, the duo offered silk shantung white tuxedoes, which were won with colored or patterned bow-ties and printed pochettes.
Belstaff, whose trademark biker jackets were a favorite of soldier and writer T.E. Lawrence, celebrated "the great traveler", offering a collection that went from soft linens to microfiber Nylon, or what it called the "lightest technical fabric ever made."
Shiny waterproof jackets and trousers came in green, indigo, lobster, grey and kiwi colors.
More than 40 designers held catwalk shows at Milan fashion week, which ended on Tuesday.
© Thomson Reuters 2023 All rights reserved.