Designers take on relaxed feel for Milan menswear
By Marie-Louise Gumuchian
MILAN (Reuters Life!) - Italian designers showed that next summer will be all about chilling out for men, with slim-look tops and loose trousers epitomizing a relaxed feel to collections.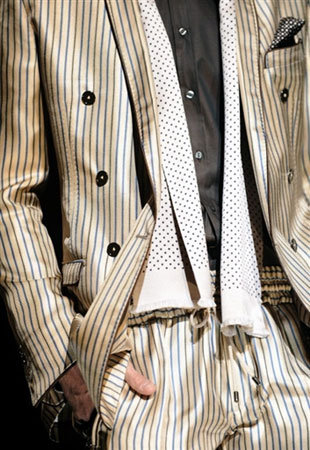 Dolce&Gabbana collection printemps-été 2009
Photo : Giuseppe Cacace/AFP
Designer team Dolce & Gabbana, made up of Stefano Gabbana and Domenico Dolce, kicked off the casual yet elegant summer look at Milan men's fashion week which ended on Tuesday, presenting comfortable and ample trousers, tied at the waist.
The duo took inspiration from oriental kimonos to dress models in silk pajamas with Asian-style prints of dragons and butterflies on robes and shorts.
The pajama also inspired Roberto Cavalli and Bottega Veneta designer Tomas Maier, who presented an "extended meditation" on the jacket and loose trousers.
"I think it makes for a great silhouette," Maier told Reuters after his show.
Cavalli added to the skinny upstairs, loose downstairs look with spacious trousers. He reversed the look with skinny jeans.
Drawstring trousers were also seen at Giorgio Armani, one of Milan's long-established names, who took inspiration from Asia for his main line, with Indian, Malaysian and Balinese styles.
The doyen of Italian fashion, who pulled in a front row at his shows that read like a Hollywood red-carpet event, turned out flowing designs that were easy to wear for his main line.
Shirts were loose and untucked and tied at the chest by a short string.
Armani emphasized a more streamlined silhouette for his Emporio Armani line, with wide trousers narrow at the hem and close-fitting sleeves for tops. Fans such as actors Josh Hartnett, Clive Owen and Adrien Brody applauded his creations.
VIVID COLOURS
As well as light cottons and linens, shantung jackets and trousers were a hit with many designers. They also plumped for mainly classic summer colors -- creams, whites, pale grays and pastels -- with flashes of vivid colors and fluorescent piping.
Armani experimented with flowing bright pink shirts for a more beachy look. Celebrity favorite Versace also went for fluid designs and added dabs of pink, orange, mint and lilac to sandals or bags that accessorized pale suits.
Gucci designer Frida Giannini went tropical with motifs of flowers and perched flamingos on jackets and shirts.
Idiosyncratic designer Miuccia Prada stuck to darker navy blue, black, dark green and mustard yellow but also kitted out her models in long, almost dress-like white polo shirts and T-shirts. Her jackets had halterneck-style straps.
Scarves were winners for accessories.
At Armani, they were draped over shoulders instead of hanging down around the neck. They also replaced belts on trousers.
Dolce & Gabbana tied short scarves round the neck for their less formal D&G line, while Versace replaced ties with long-fringed scarves, which peeked out below jackets.
The maison's designer Donatella Versace said she would like to dress U.S. presidential candidate Barack Obama.
"He is already elegant, but I would change something, maybe his shirt and I would take away his tie," Italian news agency ANSA quoted her as saying.
(Editing by Matthew Jones)
© Thomson Reuters 2023 All rights reserved.