Will Zumiez outpace slowing trends?
By Nivedita Bhattacharjee
BANGALORE, June 22 (Reuters) - Zumiez Inc (ZUMZ.O), which sells action sports-related gear and apparel, has seen a 30 percent fall in its shares in the past couple of months, but are still up 69 percent from their year-low in November last.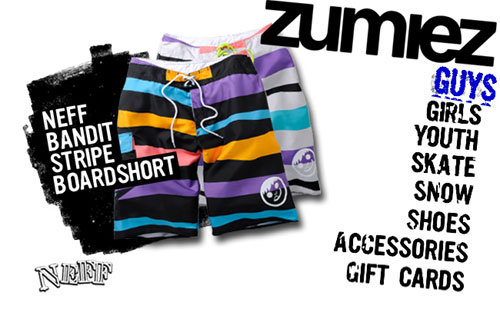 www.zumiez.com
Same-store sales sank 20.7 percent in May, and the Everett, Washington-based company does not see trends improving for the second quarter ending in July.
But the mall-based retailer, which targets the 12- to 24-year-old crowd, said it had zero debt at May 2, and is planning to open about 36 new stores during the year, even as many of its peers are freezing expansion.
So, will the current weakness in the teen specialty retail sector overwhelm Zumiez, or will the retailer of surfing goods manage to safely crest the big wave?
A UNIQUE GROWTH STORY
"We think it's actually a unique growth story," Jeff Van Sinderen, an analyst with B Riley & Co, told Reuters.
Van Sinderen, who has a "buy" rating on the stock, said Zumiez, which operates 358 stores across 31 U.S. states, has the potential to double its store base.
"In the context of a peer group that largely represents a sea of sameness, we continue to believe that Zumiez stands out as authentically committed to the action sports lifestyle from apparel to hard goods. Therein lies the longer-term opportunity for investors," he said in a note.
The analyst expects that over the next year, comparable sales will see a less severe drop, and will turn positive with time.
The company's additional portfolio of hard goods like surf boards, snow boards and boots, also serve as a unique leverage against other mall-based stores, Van Sinderen said.
WAIT AND WATCH
The company has a wider inventory assortment, and has revamped pricing to meet the back-to-school demand, but analyst Sharon Zackfia of William Blair & Co said a high teen unemployment rate and low footfall at malls make visibility tough.
Zackfia, who tells investors to "hold" the shares, said Zumiez is trying to house a wider assortment of lower-priced items going into the back-to-school season, but most analysts are waiting to see if the move makes a difference in sales.
"Until there is some improvement in the market from the teen spending perspective, or there's some strategic change at Zumiez that might make the macro a little bit less relevant, I don't expect comparable trends to really differ that much in the next few months," she said.
TOO MUCH OPTIMISM?
"Change is a good thing, but too much change all at once can bring execution risk," analyst John Morris of BMO Capital Markets said in a note, speaking of Zumiez's efforts to realign its business.
Investors are overly optimistic about the length of time that Zumiez will need to implement these initiatives, as well as the degree of execution risk the company potentially faces, the analyst said, adding that the current upside in shares is unsustainable.
Morris, who rates the stock at "underperform," said Zumiez saw a fall in sales at its strong-performing shoes segment recently, further weakening the company's prospects.
The analyst said consensus long-term growth rate expectations need to come down to about 12 percent from 17 percent, given the likelihood that the management curtails store expansion plans beyond 2009 to regain control of its core business.
"Expectations for a back-half 2009 recovery are not indicative of the company's actual near-term prospects," he said. (Editing by Gopakumar Warrier)
© Thomson Reuters 2022 All rights reserved.