US luxury sector getting ready for more deals
Mon Feb 14- Wall Street bankers, the ultra wealthy and even upper middle class shoppers are once again snapping up diamond rings, $10,000 handbags and designer gowns, priming the U.S. luxury sector for more deals.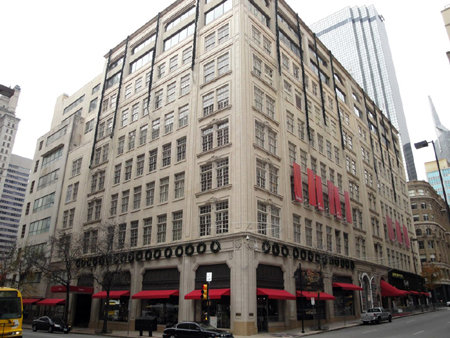 Exterior view of Neiman Marcus flagship store in Dallas, Texas (photo by Dfwcre8tive)
Merger mania has returned to industries such as pharmaceuticals and even stock exchange operators.
Now, with names such as French conglomerate
LVMH
and U.S. department stores
Saks
Inc and
Neiman Marcus
Group all reporting strong sales in the past year, analysts and bankers say that the high end sector will see some action if U.S. luxury can keep its hot streak going for another quarter or two.
"Luxury has been ... pretty resilient in the bad economy. It hasn't been across the board, necessarily, but for luxury items and brands that stand the test of time -- icons -- it has been surprisingly good," said one retail investment banker, who declined to be named because he was not authorized to speak to the media.
Mergers and acquisitions activity in the U.S. retail sector more than tripled to $19.57 billion in the year ended February 7, according to Thomson Reuters data.
The vast majority of those deals involved mid-tier chains like J Crew Group, which is being acquired by a buyout shop, and Duane Reade which was bought by rival drugstore chain operator Walgreen Co .
Worldwide, with the notable exception of British department store
Harrods
, which was bought in May by sovereign wealth fund Qatar Holding for $2.2 billion, few global deals have involved high-end chains.
Bankers and analysts don't expect there to be an immediate spurt in deals but say that strong sales last year and a good start in 2011 are a major step in that direction.
"People continue to repair balance sheets, they're going to play it safe for now," said Morningstar analyst Paul Swinand.
Still, even in the absence of megadeals, retailers themselves are looking at smaller deals.
"Acquisitions are an important part of our growth strategy. We're focused on categories that supplement and strengthen our core brands. In particular, we're very interested in extending our international reach,"
Jones Group Inc
Chief Executive Wesley Card told Reuters last week.
While most of Jones' brands such as
Nine West
and Jones New York, are mid-tier, its portfolio includes luxury brands like
Rachel Roy
designer clothing, and the company last week credited its recent purchase of shoemaker
Stuart Weitzman
for part of its sales gains.
MAYBE AN IPO
The luxury sector had a strong 2010 as the stock market rally made people more comfortable about buying fancy items and that momentum appears to be continuing so far in 2011.
"There's a top-tier of luxury that is doing well at moment. Aspirational luxury is starting to show resilience as well," said a second retail investment banker, who also declined to be named because he was not authorized to speak to the media.
Improving consumer spending has led to a series of initial public offerings in the past two years, as major U.S. chains like
Express
Inc and Dollar General Corp have gone public.
Luxury design houses have not taken part in that IPO surge just yet, with the notable exception of Italy's
Prada
, which is eyeing a Hong Kong listing.
Bankers, however, expect luxury department store Neiman Marcus to pull the trigger later this year or next on an IPO or maybe even a merger with another top luxe name.
Sales at Neiman Marcus and
Bergdorf Goodman
stores open at least one year rose 7.5 percent in January, continuing gains made in 2010.
"Neiman Marcus is one of those names that has cachet and quality. It's not trendy glamour, it's endurable luxury," the first retail banker said. "Neiman has been trending better than its counterparts and could use this momentum for an IPO."
A Neiman spokeswoman did not return a request for comment.
Neiman was bought by an investor group led by private equity firm TPG Capital TPG.UL and Warburg Pincus LLC WP.UL in October 2005, and has been in private hands for much longer than usual for a buyout shop target.

Meanwhile, Saks Inc has been the object of much takeover speculation, especially since Italian billionaire Diego Della Valle, CEO of Tods, doubled his stake in Saks in a matter of weeks last autumn.

Saks, whose sales took a beating during the recession, said same-store sales rose 6.4 percent for the fiscal year ended in January, lifted by strong holiday sales.

But analysts say Saks shares are too pricey now to invite a takeover. Saks' shares currently trade at 84 times estimated earnings, compared with the sector average of 31 times estimated earnings, according to Reuters data.

Morningstar's Swinand says Saks shares have a fair value of $7, far below their current price of $12.58.

Analysts say it's still just a bit early in luxury's recovery for a major boom in deals and IPOs.

"Luxury is hot internationally, but I don't know if it is in the United States just yet," said Morningstar's Swinand.

Phil Wahba and Jessica Hall
(Editing by Steve Orlofsky)
© Thomson Reuters 2023 All rights reserved.