Swiss watchmaker drops Tiger from US ads
(AFP)

NEW YORK — Tiger Woods lost backing from his third major sponsor in a week Friday 18 December when Swiss watchmaker Tag Heuer revealed it is dropping the golf star from US advertising campaigns in the wake of his sex scandal.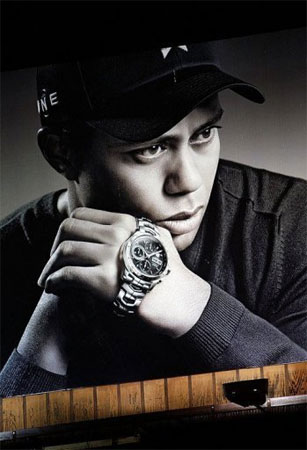 Photo: AFP
In a move that follows consulting firm Accenture ending a six-year deal with Woods, Tag Heuer chief executive Jean-Christophe Babin told Swiss newspaper Le Matin his firm will not use Woods images in US ads for the foreseeable future.
"We recognize Tiger Woods as a great sportsman but we have to take account of the sensitivity of some consumers in relation to recent events," Babin told the newspaper.
The company, a unit of French luxury goods empire LVMH Moet Hennessy
Louis Vuitton
, will continue to back Woods's charity foundation, Babin said.
Tag Heuer's move mirrors that of razormaker
Gillette
, which last weekend announced it was dropping Woods from commercials during his hiatus, calling it a supportive move.
"As Tiger takes a break from the public eye, we will support his desire for privacy by limiting his role in our marketing programs," Gillette said.
On a day when Elin Woods reportedly hired famed Hollywood divorce lawyer Sorrell Trope and details emerged about a 2007 deal between a US magazine and Woods to keep an extra-marital affair secret, Tag Heuer provided another blow.
Elin Woods has hired 82-year-old Trope, a noted divorce attorney who has represented such stars as Nicole Kidman, Hugh Grant, Nicolas Cage, Britney Spears and Cary Grant in a 60-year career, the New York Post said.
Trope's reputation as a tough dealmaker could help the former Swedish model, who reportedly signed a pre-nuptual agreement with Woods but might be in line for even greater riches given her humiliations of the past weeks.
That is, if Woods has any riches remaining.
Sponsors provided 90 percent of the funding that made Woods the first sports billionaire, but the squeaky-clean image that made him a marketing juggernaut was undone long before his confession of infidelity one week ago.
At least 14 women, one for every major title Woods has won, have claimed affairs with Woods, who said in a website statement he is taking an indefinite break from golf to deal with personal issues.
The firestorm, which erupted around Woods on November 27 after he crashed a vehicle into a tree and a hydrant, entered a fourth week with no end in sight and sponsor support eroding.
AT&T, which backs the US PGA Tour event operated by the golfer's foundation, is reevaluating its relationship with Woods.
US sportswear giant
Nike
, which pays Woods an estimated 40 million dollars a year, still backs Woods as it has since his 1996 pro debut, with chairman Phil Knight telling Sports Business Journal the unfolding saga is a small problem.
"When his career is over, you?ll look back on these indiscretions as a minor blip, but the media is making a big deal out of it right now," Knight said.
The Wall Street Journal reported Friday 18 December that the National Enquirer kept quiet about a Woods affair in 2007 in exchange for Woods giving rare access for a cover story to sister publication Men's Fitness.
Under terms of the deal, the Enquirer would not publish photographs and a story on Woods having an extra-marital affair and Woods agreed to a cover and photo spread in Men's Fitness, the Journal reported, citing unnamed sources.
American Media Inc., which owns both publications, denied such a deal took place in a letter to the Journal while Woods agent Mark Steinberg had no comment to the newspaper.
An Enquirer report on Woods's affair with showclub hostess Rachel Uchitel purportedly caused a row between him and Elin that led to his crash.
Mindy Lawton, a Florida restaurant employee who has claimed a liaison with Woods, was in the pictures not published by the Enquirer, the Journal reported.
Woods was photographed meeting Lawton in a church parking lot near the home he shared with Elin, according to the report, which added that the source told the newspaper the pictures were poorly lit and details were tough to make out.
But the threat of publication made by the Enquirer to representatives of Woods was enough for them to suggest the Men's Fitness deal, the report said.
The scrambling by Woods to buy silence from those who could expose details of his misdeeds is not yet over, according to celebrity website TMZ.
Woods is doing all that he can to save his marriage, including making calls behind-the-scenes to women with whom he had affairs about possible deals, it said. Prior reports had Woods paying Uchitel to remain silent.
Concerns were also raised about Woods being aided last February in his recovery from knee surgery by Canadian doctor Anthony Galea, who faces charges involving a banned drug and links to performance-enhancing substances.
Thus far, there is no evidence of any doping violation by Woods or that Galea provided him any banned substances.
"He had no links to Tiger Woods (or) any other athletes," Galea attorney Brian Greenspan said.
Copyright © 2022 AFP. All rights reserved. All information displayed in this section (dispatches, photographs, logos) are protected by intellectual property rights owned by Agence France-Presse. As a consequence you may not copy, reproduce, modify, transmit, publish, display or in any way commercially exploit any of the contents of this section without the prior written consent of Agence France-Presses.