South Africa's May sales down, supports further rate cut
JOHANNESBURG (Reuters) - South Africa's retail sales fell again in May, data showed on Wednesday 15 July, boding ill for second quarter GDP and supporting the case for another interest rate cut.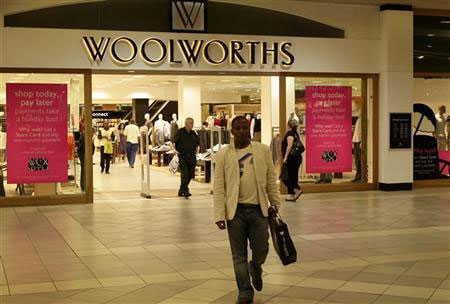 A man leaves a Woolworths shop in Sandton, northern Johannesburg - Photo: REUTERS/Siphiwe Sibeko
Statistics South Africa said retail sales fell by 4.2 percent year-on-year at constant prices, compared to a revised contraction of 6.9 percent in April.
Consumer demand has been in decline for most of the past 18 months in part due to a series of interest rate increases of 500 basis points between June 2006 and June 2008.
The central bank has since December cut interest rates by 450 basis points but the country's first recession in 17 years has hurt consumer confidence and people fear for their jobs.
Stats S.A. said sales shrunk 5.3 percent in the three months to May, compared to the same period a year ago, also at constant prices.
Analysts said weak retail sales pointed to another quarter of GDP contraction in the second quarter, boosting the case for another interest rate reduction.
"Retail accounts for about 13 percent of the GDP," said Colen Garrow, economist at Brait. "For that reason, the lower interest rate outlook should still be kept alive ... I would not be surprised if in August we see another 50 basis point cut. 4.2 percent is still a significant decline in retail sales."
Consumer demand helped lift economic growth to an average 5 percent between 2003 and 2007, but Africa's biggest economy dived into recession in the first quarter of this year.
Although the rate of retail sales decline slowed in May, consumer demand is expected to remain weak this year on the back of high household debt and job insecurity.
Manufacturing and mining output has also fallen sharply on the back of a global economic downturn, contributing to a 6.4 percent fall in economic growth in the first quarter -- the biggest decline since 1984.
The rand was little changed after the data was released, trading at 8.16 against the dollar at 1000 GMT, from 8.1624 before the data was released at 0930 GMT. The yield on the 2015 bond was at 8.705 percent, from 8.715 percent.
© Thomson Reuters 2022 All rights reserved.