South Africa gold firms up wage offer, no strike for now
JOHANNESBURG, July 7 (Reuters) - South Africa's Chamber of Mines said on Tuesday 7 July it had improved its wage offer to mineworkers' unions, and one union said the offer was good enough to avert a strike for now.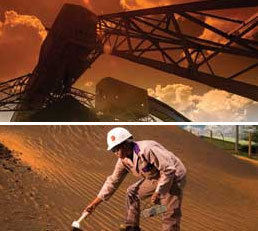 South Africa's Chamber of Mines - Photo: www.bullion.org.za
Three South African unions held talks with gold producers under the guidance of a mediator, and the unions have warned they could strike if they fail to see eye to eye over pay.
The talks were watched closely by markets because a strike could affect production, mining shares or metal prices.
"We have made good progress on various issues, but we have yet to agree on everything -- it's not in the bag until its in the bag," Elize Strydom, an official of the Chamber of Mines who negotiates on behalf of gold mining companies told Reuters.
Strydom said
AngloGold
Ashanti (ANGJ.J) and Gold Fields (GFIJ.J) had made an improved offer of a 9 percent increase on the lowest earners and an 8 percent rise for the rest of the workforce, up from a previous offer of 7 percent for all staff.
She said the unions still wanted an improvement on the wage offer, and the parties would meet Monday 13 July for more talks.
Mine workers, whose lowest-earning members earn 3,300 rand ($414.4) a month, have demanded a 15 percent pay rise, arguing the price of gold is up despite the global economic downturn.
But gold firms say they cannot afford the increase, which is nearly twice South Africa's consumer inflation of 8 percent.
A new wage deal was due to take effect on July 1.
The traditionally white Solidarity union said the new offer was reasonable, and created a foundation for further talks.
"We welcome the improved offer, it gives enough reason to continue talking. I don't see a reason to talk about a strike for now especially because this is not their final offer," Jaco Kleynhans, Solidarity's spokesman told Reuters.
The National Union of Mineworkers (NUM), South Africa's biggest labour group, was unavailable to comment.
Strydom said Harmony Gold Mining Co. (HARJ.J) had made a separate offer of an increase of 6 percent, plus a bonus scheme linked to the price of gold.
The offer was rejected by the unions.
"This is a joke. No matter how much workers produce, they cannot influence the price of gold," Kleynhans said.
Strydom said apart from the wage increment, the gold producers offered to increase the allowance for mineworkers who chose to live outside hostels provided by them to 1,300 rand per month this year, and a further 100 rand increase to be given next year. The unions had asked for 1,500 rand.
Strydom also said the unions had agreed to drop their demand for a service increase for every year of work completed. The unions had wanted an increase to 1 percent from 0.5 percent.
"This was very positive. This increase alone would have been very expensive. I think we are making progress," Strydom said.
(Reporting by James Macharia)
© Thomson Reuters 2022 All rights reserved.