Shopping in Kabul: Life goes on in war zone capital
KABUL, Jan 15, 2010 (AFP) - The security check at the entrance to a French restaurant in Kabul can be both cursory and confusing.
"Anybody got a weapon?" the guard asks as a small group crowds into a holding chamber -- called a "cage" -- before being admitted into the restaurant complex.
"Yes, I've got a gun," says one man.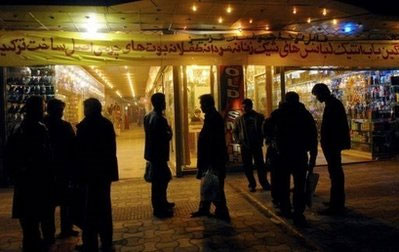 Photo: AFP/Massoud Hossaini
"OK," says the guard, and waves everybody through.
A diner in the upmarket Heetal Plaza Hotel, meanwhile, might find a thickset man chomping a hamburger at the next table, with a large pistol in a holster on his hip.
But while Kabul is the capital of a country at war, it doesn't always feel that way as the sun glints off distant snowcapped peaks and street life reflects a vibrancy uncowed by three decades of conflict.
Guns, guards and soldiers are everywhere.
But so are markets and shoppers, who risk their lives crossing chaotic roads crammed with everything from trotting donkey carts to smart four-wheel drives and menacing military vehicles.
In the labyrinth of dusty streets and back alleys, deep potholes determine the side of the road drivers choose to use, leading to skilful weaving of traffic which would do credit to an Afghan carpet-maker.
Walk through Chicken Street -- of hippy-trail fame before the Soviet Union invaded on Christmas Day 1979 -- and it is possible to forget there is a war on.
Shops offering jewellery, furs, Afghan scarves and hats vie for attention alongside butchers and money changers plying their trades at stalls in the street itself.
Heavily bearded men in flowing, baggy clothes -- wrapped in scarves and turbans against the nose-numbing cold -- chat and make deals. But women are scarce.
Of the few who venture out, some wear the all-enveloping blue burqas derided in the West as symbols of the extreme subjugation of women under the former Taliban regime.
But many of them carry babies and beg, suggesting the face-concealing burqa may sometimes play a bigger role in hiding shame than in conforming to Taliban dress codes years after the Islamists were ousted by the US-led invasion in 2001.
Despite the threat of kidnap, whether by Taliban or criminal gangs, a brief stroll down Chicken Street by a Westerner is likely to be disturbed by little more than the enthusiastic attention of street urchins.
But the sudden roar of a fleet of military helicopters overhead is a reminder that Afghanistan has had little relief from conflict in the past 30 years.
Despite that, like urbanites around the world, many love their city.
"I've lived all my time in Kabul," says Mohammad Siddique, 48, a driver for an international company who describes himself as "a living history" of the years of conflict.
"I saw a lot of war, but I never moved from Kabul, and I like my city."
Doug Wankel, a former US Drug Enforcement Administration chief of operations, who lived in Kabul for two years before the Soviet invasion of 1979, returned in 2004 and has lived here ever since.
"I like the Afghan people, they are very strong, proud and independent. They make good friends and you can rely on them," says Wankel, now managing partner of security firm Spectre Group International.
Windows in his home were blown out by the most recent suicide attack in Kabul, opposite the Heetal Plaza Hotel on December 15, which killed eight people and wounded 40 others.
"It's a cost of doing business in Afghanistan -- but it's still worth it," he told AFP.
Despite the devil-may-care attitude of Kabul's citizens, they face a rapidly escalating war.
The number of civilians killed in the conflict jumped last year to 2,412, making 2009 the deadliest year for ordinary Afghans since the US-led invasion, the United Nations said.
Last year was also the deadliest for foreign forces fighting the Taliban, with 520 troop deaths, up from 295 for the year before, as the insurgency has escalated and spread.
But carnage is nothing new for Afghanistan and Kabul.
In the courtyard of the Gandamack Lodge, named after a battle in 1842, an ancient cannon stands as a reminder of Britain's disastrous and bloody invasion of Afghanistan more than 150 years ago.by Lawrence Bartlett
Copyright © 2023 AFP. All rights reserved. All information displayed in this section (dispatches, photographs, logos) are protected by intellectual property rights owned by Agence France-Presse. As a consequence you may not copy, reproduce, modify, transmit, publish, display or in any way commercially exploit any of the contents of this section without the prior written consent of Agence France-Presses.