Reviving Afghan fashion, one stitch at a time
KABUL (Reuters Life!) - Tweaking folds of black and gold silk, Zolaykha Sherzad frowns. Reinventing a country known for burqa-clad women as a source of high-end fashion means getting every stitch right and something is not perfect with a dress.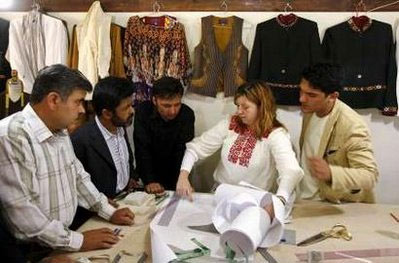 A foreign designer discusses with her Afghan colleagues the pattern of a cloth in Kabul - Photo: REUTERS/Omar Sobhani
Her pared-down modern take on traditional Afghan fabrics and designs already draws a steady stream of politicians, diplomats, businesswomen, and even the odd tourist, to her atelier and shop in a lush traditional courtyard in the heart of Kabul.
But Sherzad, an Afghan who fled three decades ago to escape unrest that has dragged on intermittently ever since, has more ambitious goals for a business that now employs nearly 50 people and is fuelling a revival in weaving and embroidery.
"We are launching the line at boutiques in London, Dubai, Paris and New York," she told Reuters, below walls hung with the bright silk "chapan" jackets that are a major inspiration.
The rails between them are packed with wool and embroidered silk jackets, gossamer-thin shirts and dresses embellished with the calligraphy of a top Afghan artist.
"The local market is fragile, if something happens people leave," she says, a real risk in a country where violence has surged to its highest levels since the 2001 overthrow of the austere Taliban regime by U.S. and Afghan-led forces.
Under the hardline Islamists, Zarif -- a fashion venture with a female boss -- would have been inconceivable. Women were banned from working and prescriptions on their clothing went beyond the all-enveloping burqa, to cover the type and color of shoes.
Even now operating in the impoverished capital of a country at war brings unusual challenges.
Kabul's power supply cuts out so often that generator fuel to keep sewing machines running costs more than the rent.
With little mass-production in any industry, tailors are used to sewing made-to-measure garments, and struggle to turn out the identically sized pieces needed to supply a global market.
"The fabrics are behind, the tailors are behind. If production doesn't follow orders, it is not going to work," Sherzad said with a sigh, as she checked on a silk shipment.
FIT FOR BOUTIQUES
But the tailors are highly skilled, the fabrics are luxurious and the use of stylish ethnic accents on modern lines means that the finished items do not look out of place in design capitals of the world, says fashion consultant Christine Manthey.
"People were really surprised that this kind of business even existed," the New Yorker said during a break from a pattern-cutting class she was holding for Zarif's tailors.
"There is not the awareness that a contemporary line is being produced here. I see (the designs) at boutiques, mixed with other designers, not at ethnic-type stores."
The concept of Afghan style has been bolstered by President Hamid Karzai's regular global plaudits for his luxurious outfits.
It can take 20 days just to thread the looms on which chapan silk is handwoven, and twice as long to weave 300 meters. Natural colors come from sources like walnuts, pomegranates and onions.
Master weaver Saleh Mohammed and Sherzad bemoan the cheap imitations they say are flooding the country today, jackets of poor fabrics made stiff with glue and cardboard.
But as the economy expands demand for old-fashioned quality has been growing. Mohammed, who learnt his craft in a refugee camp, now employs nearly 30 people weaving, dying and managing the small factory that produces Zarif's silk.
Jobs are coveted in a country with huge unemployment, and Sherzad has ensured that at her fast-growing business over half her workers are women.
"This is a healing place; I don't want to only push them to produce, produce. A lot of them have some troubles at home, they have lost someone in the war maybe, so here they can laugh, listen to music, and go home inspired, positive," she said.
"Here with so little, you can do so much."
(By Emma Graham-Harrison. Editing by Sugita Katyal)
© Thomson Reuters 2023 All rights reserved.