Muslim women get pig-free cosmetics
DUBAI, Sept 10, 2009 (AFP) - For Muslim women who feel they are violating Islam's teachings by using skin creams with alcohol and pig residues, Layla Mandi has the answer: religiously-correct "halal" cosmetics.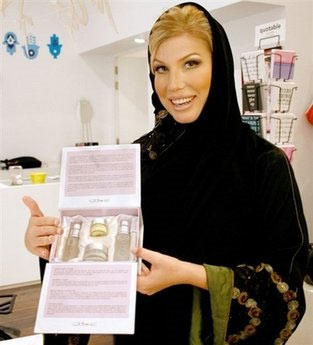 Photo: AFP/File/Ola Galal
The Canadian makeup artist who converted to Islam is marketing cosmetics called OnePure, which she says have the luxury feel of international brands minus the elements banned under Islamic law.
"There are pork derivatives and alcohol in most cosmetics products, so Muslims should really use something else," Mandi said.
From Islamic banking to alcohol-free hotels, products tagged as halal have become popular among devout Muslims -- who pray five times a day and perform other rituals.
Under the concept of halal -- which means "lawful" in Arabic -- pork and its by-products, alcohol and animals not slaughtered according to Koranic procedures are all forbidden.
Strict Muslims the world over only buy halal food but the market for halal cosmetics is still in its infancy in Asia and a mere novelty for Muslims in the Arab world.
Such products are not usually sold across the counter but can be bought on the Internet from online stores in Malaysia, Jordan and Britain.
"Muslims don't want to go around and pray five times a day having pork residues on their body," said Mandi, in her early thirties and swathed in a slim black abaya, or cloak, with wisps of blond hair sticking from under her head scarf.
"I came to the Middle East to learn more about people's needs. Most were pretty shocked when I told them there were pork products in their skin care items so they were very interested."
According to Mandi, fatty acids and gelatin used in moisturisers, shampoos, face masks and lipsticks as well as other items are often extracted from pigs.
Determined to create a halal product, Mandi brought together a dermatologist and a chemist and told them the deal: cosmetics and skin-care products free of pork and alcohol.
OnePure is guaranteed to be just that, she said. And to get a foothold in the highly competitive business, Mandi is offering products that come in glitzy wrappings.
"I wanted the packaging to be really luxurious, to speak to young people and old people, to everyone. I didn't want people to say I'd really like to buy a halal product but the packaging doesn't look cool,'" she said.
Touted as the first halal cosmetics brand in the Middle East, OnePure products are certified in Malaysia by an Islamic body that also certifies meats and other consumer goods for Muslims.
So far Mandi has been selling them online, on Saudi Airlines -- her first customer since July -- and a small boutique in the upscale Souk al-Bahar in the Burj Dubai complex that houses the world's tallest tower.
"It's most specifically designed for women in the GCC (Gulf Cooperation Council). I plan to launch a line for men but for now, it's just women," Mandi said. "There is appetite for it in this region."
But some in the make-up industry have expressed skepticism about halal cosmetics, dismissing ideas such as Mandi's as marketing ploys that feed on the need of some for religiously-correct products.
"I feel it's more about marketing," said Noura Hamdi, marketing manager at a Body Shop boutique in Dubai.
"We are not using any animal products in our products anyway," said Hamdi, adding that the alcohol contained in the cosmetics and skin-care products sold in her shop "is not pure alcohol."
"The customer is not going to drink it. It's something to apply on your body or clothes so it's not related to halal or haram or religion," Hamdi said. "The issue is not whether it's halal or haram, it's more about the benefits of the product."
But a senior cleric at the United Arab Emirates' Dar al-Iftaa, which issues fatwas, or religious edicts, disagreed.
"If any of the cosmetic products contained pig derivatives or alcohol they should not be used because this is contaminated and one does not want to apply contaminated (products) on one's body," said the cleric, who is not authorised to identify himself in his task in answering Muslims' queries by telephone.by Ola Galal
Copyright © 2022 AFP. All rights reserved. All information displayed in this section (dispatches, photographs, logos) are protected by intellectual property rights owned by Agence France-Presse. As a consequence you may not copy, reproduce, modify, transmit, publish, display or in any way commercially exploit any of the contents of this section without the prior written consent of Agence France-Presses.