Luxury items risk status loss in saturated Dubai
By Daliah Merzaban and Tamara Walid

DUBAI (Reuters) - The market for luxury goods in Dubai became saturated even before the financial crisis hit last year and the sector's exclusivity status runs the risk of being diminished, a Standard Chartered Bank economist said on Tuesday 9 June.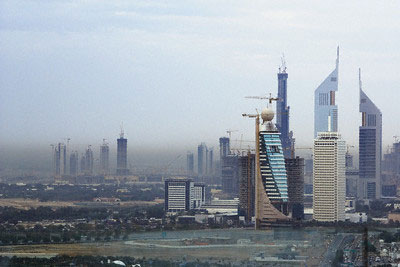 Dubai skyscrapers
As the wider Gulf region witnessed an economic boom in the six years to 2008, luxury retailers expanded quickly into Dubai hoping to capture sales among wealthy Gulf Arabs and tourists to the most popular Arab destination after Egypt.
"One of the major risks in the Dubai retail luxury market is saturation, the risk of the luxury part of image being eroded," Standard Chartered senior economist Philippe Dauba-Pantanacce told the Reuters Global Luxury Summit in Dubai.
"We have seen the luxury market in this area has collapsed, but even before the crisis, the invasion of luxury brands in the region has been to such an extent ... they have almost suffocated the market in terms of brand presence."
In Western retail markets such as the United States, designer labels are able to transfer excess stock from previous seasons to outlet malls where shoppers expect a discount -- without diminishing the brand's equity, Dauba-Pantanacce said.
"There is not enough of that kind of premises in Dubai to serve as an exit solution for the stocks that they have and make the system more sustainable," he said. "Luxury brands find a second life in the outlet mall, it is a great exit."
Retailers, therefore, face a dilemma -- if they cut prices too much, it could damage their image in the longer term.
PURCHASING POWER
Shops in Dubai, home to one mall trumpeted as the world's largest and another that boasts an indoor ski slope, have suffered from a severe drop in sales since the emirate's economic boom came screeching to a halt in the autumn.
A real estate and stock market collapse prompted many local consumers to rethink luxury purchases, while a drop in tourist visits has also taken a toll since visiting shoppers account for about a fifth of the total market, Dauba-Pantanacce said.
Consumer confidence in the UAE slumped in the six months to April with residents, worried about job security, fearing the oil exporter faces recession for longer than a year, a survey by market research firm Nielsen showed last month.
"They have been suffering but there is still a lot of wealth in this region," Dauba-Pantanacce said, referring to Gulf per-capita income that runs as high as $100,000 per year in Qatar, the world's biggest exporter of liquefied natural gas.
In the UAE, per-capita income is about $45,000, and stands at $15,000-$17,000 in Saudi Arabia -- although per-capita income among Gulf nationals exceeds the average, he said.
Demand among the millionaires and billionaires in the region has "put a floor on the catastrophe," he said, adding that growth potential among the indigenous populations was still robust.
"There is still a lot of wealth in this region coming from local population," Dauba-Pantanacce said.
Only 3 percent of Dubai's GDP comes from oil. The emirate relies instead on construction, retail, tourism, trade and financial services for its revenues.
Largely due to the slowdown in Dubai, Standard Chartered expects economic growth in the UAE to slow to 0.5 percent this year after facing a contraction in the first half of the year.
(Editing by Rupert Winchester)
© Thomson Reuters 2022 All rights reserved.