Koor plans up to $886 mln Carrefour investment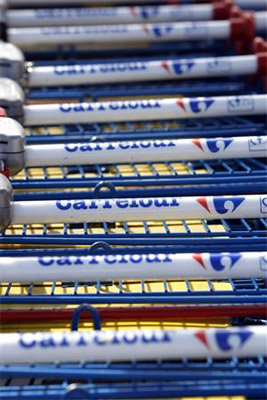 Photo : Eric Gaillard
TEL AVIV, June 22 (Reuters) - Israeli holding company Koor Industries (KOR.TA) said on Monday 22 June its board had approved an investment of up to 3.5 billion shekels ($886 million) in France's
Carrefour
(CARR.PA).
Koor said in a statement it already holds 1.76 million shares, or 0.25 percent, in the world's second-biggest retailer. It paid 284 million shekels for the shares.
It said it had reached an agreement in principle for HSBC to extend it credit of 300 mln euro for the purchase of shares. As it makes use of the credit, Koor will put up similar amounts from its own resources.
"The use of the credit framework and the investment in Carrefour shares is dependent on several conditions, including the company's estimate as to market developments," it said.
"The company clarifies that it will carry out the investment by taking advantage of opportunities to buy and sell in accordance with market conditions... from time to time and there is no certainty as to the size of the investment."
Koor last year began to buy and sell shares in Credit Suisse (CSGN.VX), reaching at one point a stake of 3.4 percent, which made it the third-largest shareholder in the bank.
It has since reduced its stake in Credit Suisse to 0.7 percent, reaping gains of over 2 billion shekels along the way.
Shares in Koor, a subsidiary of the IDB Holding (IDBH.TA) group, opened up 1.8 percent compared with a flat broader market.
($1 = 3.95 shekels)
(Reporting by Tova Cohen; editing by Simon Jessop)
© Thomson Reuters 2022 All rights reserved.