Italy tallies rising cost of boom in fake goods
By Deepa Babington
ROME (Reuters) - A booming market in counterfeit goods racked up sales of 7.1 billion euros in Italy last year, undermining high-end fashion brands and prized food products that Italy's economy thrives on, a study showed on Wednesday 22 April.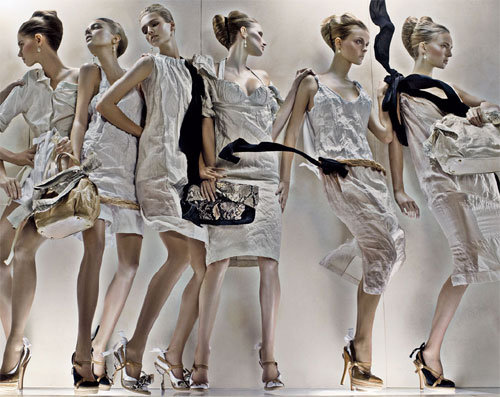 Prada "a part of Italian culture" (Photo: www.prada.com)
Home to a host of luxury brands like
Prada
and
Gucci
and a farm sector that revolves around special cheeses, wines and food products made to exacting standards, Italy is one of the countries most exposed to losses from knock-offs, experts say.
The money diverted to buying fakes means a loss of 0.5 percent of gross domestic product and deprives the state of 5.3 billion euros in taxes, said Giuseppe Roma, director general of the Censis research group that presented the study.
"A big part of our business might is based on intangibles like brand name and craftsmanship, so it's easy to be robbed," Roma told a conference on counterfeiting, a few blocks away from where sellers offered bright, fake Prada bags on the street.
"And this is robbery we're talking about here. Because when you buy a Prada bag, you don't just buy a piece of leather but a part of Italian culture."
Clothing and accessories saw the most vibrant trade in fakes with 2.6 billion euros in sales, followed by the music, movies and software sector and then food and drink, the study said.
"The situation is disastrous, nine out of 10 agricultural products that claim to be Italian are foreign," said Agriculture Minister Luca Zaia, promising the government would show "zero tolerance" of counterfeiting. "It's scandalous."
Among new trends, mundane household goods like toothpaste and detergent are being counterfeited now, which could pose health risks for consumers, said Franco Staino, head of the Ares-Aico group that sponsored the study.
Italian authorities are also stepping up the fight against counterfeiting. They conducted more than 61,000 sting operations in 2007, seizing more than 88 million fakes and arresting more than 1,500 people, the study said.
But that has only touched the "tip of the iceberg," the study said, and the Italian government is now hoping to dissuade buyers with a new advertising campaign that includes newspaper ads urging consumers to say "No to false products."
A TV spot drives home the message, presenting a fake line-up of the Italian soccer team, replacing Gianluca Zambrotta with "Zambrutta" and Fabio Grosso with "Grasso" before coach Marcello Lippi arrives to warn: "Counterfeiting damages all of Italy."
(Editing by Tim Pearce)
© Thomson Reuters 2022 All rights reserved.