Italian fashion house Ferragamo not seeking HK IPO
Feb 27 - Italian luxury goods maker Ferragamo, whose shoes have been worn by stars including Marilyn Monroe and Al Pacino, is not considering a share listing in Hong Kong like its fashion peer Prada, its CEO has said.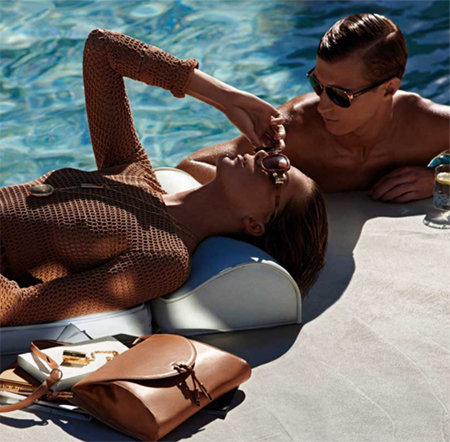 Ferragamo's S/S 2011 ad campaign, shot by photographer Mikael jansson, reinterprets the seduction and bohemian spirit from the classic French fimm 'La Piscine', the source of inspiration for the season's collections
Catwalk trailblazer Prada last month green-lighted a long-awaited initial public offering in Hong Kong, which, if successful, could value the company at more than 6 billion euros ($8.25 billion).
"We have not taken any decision (over an IPO)," Ferragamo Chief Executive Michele Norsa said on the sidelines of the company's womenswear show on Sunday, dismissing a report in the Sunday Times indicating Hong Kong as a possible location for a stock listing.
"We remain committed to Italy," he said.
The British daily said the Florence-based company could meet bankers over an IPO as early as next month.
Italian business weekly Il Mondo has said a market debut could take place between this autumn and spring 2012. Norsa did not give any timing option for a decision.
Speculation over a Ferragamo IPO mounted after Prada and outerwear maker
Moncler
hired banks to prepare for a listing for as early as this summer.
"We are not seeing what other companies are doing," Norsa said.
The family run maker of fine leather shoes and bags, which unveiled a black-and-white womenswear collection on Sunday, has said it could float depending on market conditions after freezing a previous listing plan in 2008.
Ferragamo's revenue grew 26 percent to 782 million euros in 2010, Norsa said, adding the trend was confirmed in the first weeks of this year.
"All markets are going well, not only China," he said.
Norsa, who is traveling to Dubai for business next week, said the political turmoil in the Middle East and North Africa was not having a particular impact on sales.
"Our franchise shop in Cairo has reopened. It has remained closed for just 10 days," he said.

(Reporting by Antonella Ciancio, Editing by Maureen Bavdek)

© Thomson Reuters 2023 All rights reserved.