Goat-rearing Afghan nomads inspire US designer
By Luke Baker
KABUL, May 20 (Reuters Life!) - On the face of it, the Kuchi nomads of Afghanistan, a tribal people accustomed to rearing goats, are not a straight-forward fit for high-end fashion.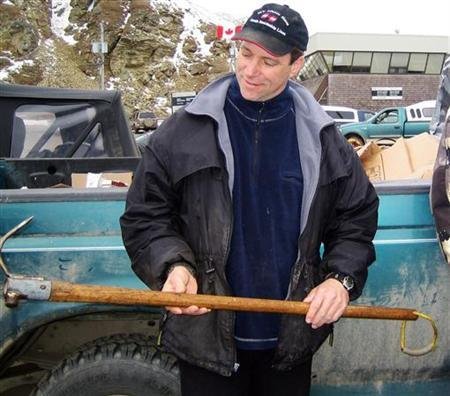 But their intricate embroidery, jewellery and clothing, with pieces of metal or coins sewn into the fabric, are designed to catch the eye -- and that's exactly what they've done for American accessories and clothes designer Elizabeth Muir.
Muir has spent much of the past year in Afghanistan, trawling the bazaars, leather workshops and artisan markets of Kabul, drawing inspiration for a fresh collection.
And during those hours of exploration, what drew her the most were the colors and vibrancy of the nomads' clothing.
"I just love the Kuchis," she says enthusiastically.
"They're like the gypsies of Afghanistan. I love their jewellery and their textiles. When I was going to the bazaars and artisan shops, the stuff I really gravitated towards was the fabric and embroidery of the Kuchis."
Along with other influences, including traditional Afghan wedding clothes with their highly detailed embroidery, and the purity and simplicity of Afghan cotton, Muir started sketching designs and putting together a collection.
While a successful accessories designer in the United States -- her glitzy, eye-catching belt buckles are worn by rock stars and country singers -- clothing was a new departure for Muir.
With long experience in central Asia, her day job in Afghanistan is as a consultant on international development for an American company, and so design was an after-hours pursuit.
Still, she pulled together the fabrics and designs, found a factory run by an Afghan woman employing Afghan war widows to stitch the clothing, and slowly the collection took shape.
"It took time. They didn't always get it the way I wanted first time, but we worked together and in the end it was great," says Muir, 39, a Washington, DC native.
MIAMI FASHION
In October last year, she showed her first pieces on the catwalk at Fashion Fights Poverty, a U.N.-sponsored event in Washington. The reception was good and she was invited to show a fuller collection at Miami Fashion Week, held last month.
Returning to Kabul she really got down to work, coordinating with leather workers and other artisans to source the materials and craft more designs. All went to plan until she flew from Kabul to the United States with the collection in her luggage.
"I was in New York and my luggage was lost somewhere in Dubai," she says, grimacing at the memory.
She flew to Miami anyway and somehow the airline managed to ship the undamaged collection to her hotel with hours to spare.
Miami was again well received and she's now looking at showing a collection in Milan and getting the designs into boutiques in Los Angeles, across Europe and Dubai.
"I feel like Dubai is really the place where it's going to take off, not necessarily because it's in the Middle East, but because Dubai is just really booming. I think from a fashion and a business point of view, it's going to be huge."
Back in Kabul once again, Muir is focusing on leather and on incorporating Afghan stones into her next designs.
"It's easy to get ideas and be inspired here," she says. "My dream would be to expand it so that it becomes an alternative livelihood for the people, and the artisans really benefit."
(Editing by Miral Fahmy)
© Thomson Reuters 2023 All rights reserved.