French Fashion house Givenchy turns gaze to Asia
Feb 25 - The French fashion house synonymous with Audrey Hepburn and Breakfast At Tiffany's is eyeing Asia as its next big growth market, spurred by the rapidly rising incomes of the region's nouveau riche.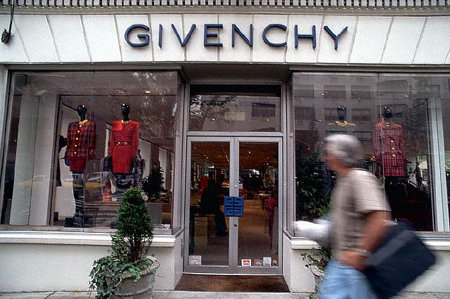 Givenchy shopfront in New york
Fifty-nine-year old label
Givenchy
, which is part of the world's largest luxury group
LVMH
, plans to open ten new stores across Asia this year, six of which will be in China, Fabrizio Malverdi, Givenchy's chief executive officer told Reuters in an interview on Thursday.
Givenchy is best known for dressing celebrities such as film star Audrey Hepburn and the late Jackie Kennedy Onassis in classic styles.
Today, under the helm of chief designer
Riccardo Tisci
, the fashion house is more associated with a modern and feminine twist, often with gothic touches.
In addition to its womenswear collections, Givenchy also designs haute couture, menswear, accessories and perfumes.
"Asia is playing a bigger role in fashion. It is really linked to the economic movement that's really positive for the whole Asian market," Malverdi said.
China's appetite for luxury goods fueled a record year for sales and profits at LVMH, underscoring Asia's growing importance for the fashion industry. It reported global profit from recurring operations last year rose 29 percent to 4.32 billion euros ($5.91 billion).
Asia accounted for about 34 percent of LVMH's sales last year, making it the company's largest market along with Europe, which also accounted for 34 percent.
CHINA EXPANSION
Givenchy currently has 64 stores in China located mainly in bigger cities like Shanghai, but it is looking to expand its presence in the country's less glamorous but fast-growing third-tier cities.
"We started early in China so we're not just in the first tier cities. We're established even in the second tier cities. What's interesting now is the trend is looking toward third-tier cities," said Wilfred Koo, President of China, Asia Pacific at Givenchy.
The fashion house is looking at opening a store in Baoding, a city in China's north eastern province of Hebei. It has two stores in other third-tier Chinese cities.
"The feedback (in Asia) so far is excellent, very very good. We're studying further expansion...It's going very well but when you're first starting you have to see the reaction from the market," said Malverdi.
With Asia's booming economy and a growing affluent middle class, global fashion brands have in recent years been ramping up efforts to expand in the region and particularly in China.
Chloe
, owned by Swiss luxury goods group
Richemont
, sees China becoming its number two market by revenue after Japan in two years, its chief executive said on Friday.
Italian catwalk darling
Prada
, which plans to become the first European fashion house to float shares in Hong Kong this year, said retail expansion and a booming Asia market lifted sales to a record in 2010.
The region's rising influence can also be seen from the runways of Paris and New York to advertising campaigns of luxury brands where Asian models are becoming more of a feature.
Givenchy's Tisci showcased his Spring 2011 haute couture collection with a cast of Asian-only models, and dressed them in Japanese-robot inspired designs.
"Just a few years ago in fashion, Asian models or black models were not common, but in 10 years everything has changed," said Malverdi.
"Today what's interesting in our business is to be able to express and please a diverse group. To have Asian people in ad campaigns etc., it's going in this direction."
By Charmian Kok
(Editing by Raju Gopalakrishnan)

© Thomson Reuters 2023 All rights reserved.