Discrimination on the catwalks?
PARIS, June 29, 2008 (AFP) - Though America stands poised for its first black president in history, the fashion world descending on Paris for this week's couture-show summit will be treated yet again to a "white-out" on the catwalks.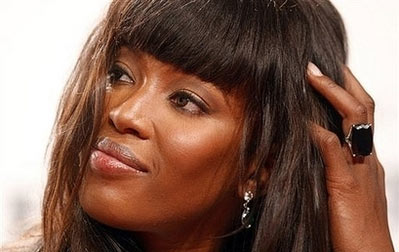 Naomi Campbell - Photo : AFP
After the emergence 30 years back of black faces on catwalks -- thanks largely to recently demised French couture giant Yves Saint Laurent -- fashion in the first decade of the 21st century has turned relentlessly white.
"I asked the modelling agency for black girls for our next show but there simply aren't any," said Mario Lefranc, half of the Lefranc-Ferrant designer duo, one of 40-odd labels presenting couture collections in Paris over the coming week.
"I'm sick of blonde Russian girls," he told AFP. "Clearly the trend now is all for blue-eyed blondes."
And at Jean-Paul Gaultier's, a designer renowned for using models of all ages, sizes, and origins, one assistant said: "It's really very difficult at the moment. There are no black models on the market, the agencies have none."
In the last few years, she added, "there's been an invasion of girls from Eastern Europe, of their type of beauty."
Former model Mounia, now 40-something and born on the French Caribbean island of Martinique, was one of the first top black models to hit high fashion those few decades ago, along with by Iman, Katousha, Naomi Campbell, Jourdan Dunn, Alek Wek and Pat Cleveland.
An aspiring air hostess discovered by Hubert de Givenchy, then propelled onto the catwalk by Saint Laurent, she acted as the face of YSL for some 15 years from 1985 onwards. "He was inspired by the colour of my skin," Mounia told AFP. "I was his black model, his first black muse."
"I've noticed there are many fewer black models on the catwalks today and I think it's a pity," she said. "Particularly when you look around at what is going on worldwide, at how society has evolved, at what is going on in America."
Fashion has long been said to reflect changes in the air, and Barack Obama's rising star was one of the reasons behind a momentous decision in the rarefied world of style by Italian Vogue editor Franca Sozzani to make a statement against discrimination in its forthcoming issue.
-- 'This will be an event to remember' --
-----------------------------------------
Bound to make waves in the weeks and months to come, July's issue of Vogue Italia is to feature more than 100 pages, including the cover, of images of black women -- models as well as successful black women in arts and entertainment. The pictures were taken by influential US photographer Steven Meisel, known for his 1992 volume with Madonna.
"Franca doesn't realise what she's done for people of colour," Campbell was quoted as saying of Vogue's "A Black Issue" in The New York Times. "It reminds me of Yves (Saint Laurent) using all the black models."
And London's Daily Telegraph noted that "this will be an event to remember."
As advertisers increasingly beam images of a multi-ethnic global society around the world, the whitewash on the catwalks appears absurdly out of touch with reality.
So what ever happened since YSL, Paco Rabanne or Azzedine Alaïa put black models on the front pages?.
White domination on the catwalks in the 50s and early 60s, when racism and ostracism remained rife, reflected the times, said fashion historian Lydia Kamitsis.
"Seeing black girls on covers and catwalks in the mid-60s caused a real scandal," she told AFP. "In the 80s there was an explosion of cultural and ethnic diversity, with models of all shapes and all cultures."
"Then all this disappeared progressively to become this uniform whiteness of today."
Kamitsis said she believed the white-out of black girls was because labels had become more important than creativity in contemporary fashion. "The product is what counts, the product is more important than the model's personality.
Today's style, in contrast with times when to be different was what counted, was "more uniform, more neutral" and designers themselves subjected to marketing strategies and zero-risk production diktats.
"The market for fashion goods, emerging nations such as China, Russia, the Arab world, are countries that are not specially known for favouring social or cultural mixes," she said.
"White models are without a doubt the easiest ways of attracting these clients."
According to Renee Dujac-Cassou, who heads Paris' Crystal models agency, "blue-eyed blondes have always been the dream type. It's as simple as that."
"A beautiful African woman is not the dream type, neither is a Tibetan or a Chinese princess." The number of non-white models parading on catwalks, she said, "will always be extremely limited."by Claire Rosemberg
Copyright © 2023 AFP. All rights reserved. All information displayed in this section (dispatches, photographs, logos) are protected by intellectual property rights owned by Agence France-Presse. As a consequence you may not copy, reproduce, modify, transmit, publish, display or in any way commercially exploit any of the contents of this section without the prior written consent of Agence France-Presses.