Brands with stores may fare better
By Martinne Geller
NEW YORK (Reuters) - As sales of luxury goods decline in the global economic slowdown, brands that run their own stores, are backed by corporate parents, or have lead positions on department store floors are poised to come out ahead, an industry expert said.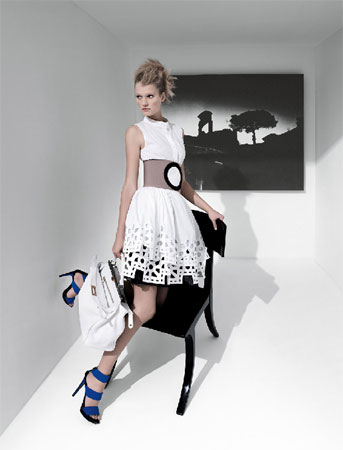 Fendi spring-summer 2009
Speaking at the Reuters Global Luxury Summit in New York on Monday 8 June, Bain & Co partner Claudia D'Arpizio said although it is a big investment for companies to have their own stores, those that do often have a better understanding of consumer behavior.
"In general, whoever has stronger control of their retail network is well-equipped now to react to this," D'Arpizio said, since "you have in your hands all the levers to really understand how the consumers are changing."
D'Arpizio, who studies the global luxury market from Milan, expects sales of luxury goods -- including high-end handbags, jewelry and clothing -- to fall 10 percent this year after being flat last year.
Success does not depend on having 100 percent control of the retail network, D'Arpizio said, since brands with very good relationships with retailers -- such as the top name in a certain category -- are in a position to work with stores to boost their sales.
D'Arpizio likened the situation to what has happened in the grocery aisle at Wal-Mart Stores Inc (WMT.N) and other retailers, where leading brands work with stores on marketing and understanding how best to reach consumers.
"I think in particular category leaders can work with department stores and retailers, trying to understand how really to improve the relationship," she said.
D'Arpizio also said brands that are part of conglomerates will have a competitive advantage over independent names.
That is because brands like Fendi or Givenchy, which are owned by LVMH (LVMH.PA), or Gucci and Balenciaga, which are part of PPR (PRTP.PA), may have a bigger cash cushion than privately owned fashion houses like Christian Lacroix, which was placed under creditor protection last week.
"For sure if you are a medium-sized brand inside a big group you are better-equipped to overcome this moment of crisis because in that group there is at least one big cash cow that is still fueling growth for all the others," D'Arpizio said.
(For summit blog: blogs.reuters.com/summits/)
(Reporting by Martinne Geller; Editing by Brian Moss)
© Thomson Reuters 2022 All rights reserved.